Contemporary Kitchen Inspired by European Design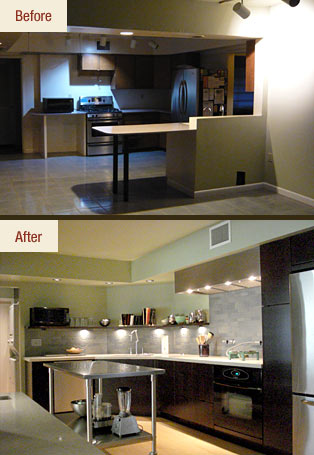 Frequent travelers to Amsterdam, these clients are passionate about creative design and big fans of
Droog design
based in Amsterdam. Their existing kitchen was remodeled at least once since its original late 40's construction, and doorways were added over the years until there were four leading into the kitchen. When thinking about their design possibilities, the clients knew they wanted to close off at least one doorway. We closed off the doorway into the original hall and we enlarged another so that the kitchen would be more open to the living room section of the house. Our clients were also quite enamored with a portable and storable cook top that they saw while visiting Droog and wanted to emulate it in their new kitchen. When not in use, custom portable cooking elements can be disconnected and stored to allow full use of the countertop for food preparation and other tasks. The kitchen also features a movable restaurant-style stainless steel table so that the center of the kitchen area now offers a myriad of functional possibilities.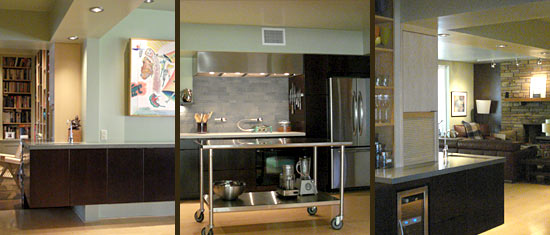 Other notable features include a 63" wide custom stainless steel ventilation hood, cantilevered cabinets at the bar with a trend-setting trough sink, a
Doug Mockett
pop-up electrical outlet and a custom backsplash tile design made from reclaimed 12" square porcelain tile. Take a look at the new Karbon kitchen faucet that we used from
Kohler
and the cabinetry by
Kitchen Craft
featuring the Summit door style.