Don't Box Me In: A Traditional Before & After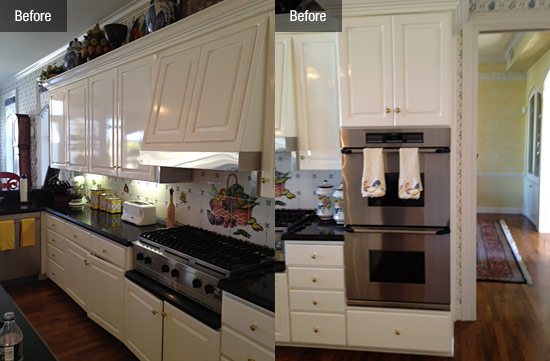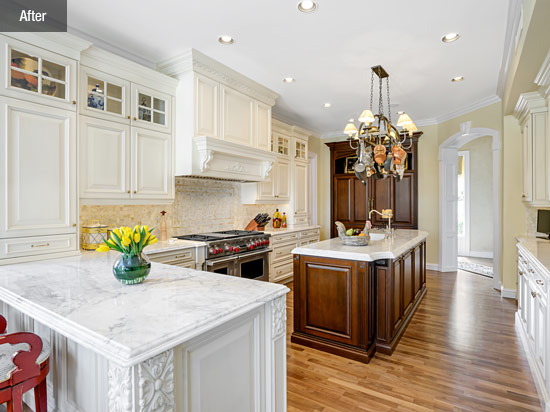 Our client described her old kitchen as "boxed in and lacking flow." Several factors contributed to the boxy feel and inefficient use of space:
The awkward placement of the wall-mounted ovens near the opening to the formal dining room.
The raised bar at the end of the peninsula.
The refrigerator doors which opened directly into path between the kitchen and greatroom.
The cramped cabinets and key drop capped by an 8 foot soffit.
The undersized island.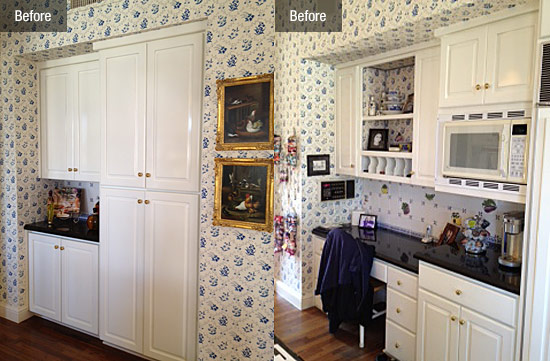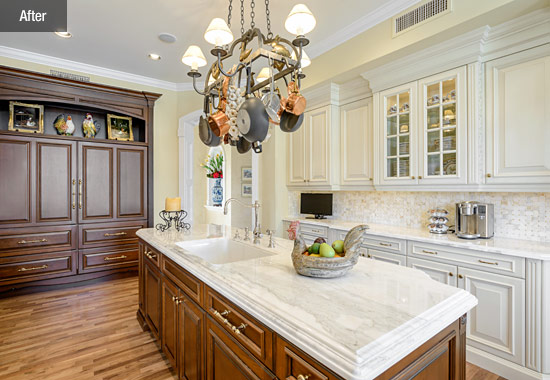 She also disliked her outdated cabinets with mismatched doors and drawer fronts. Her vision for the new kitchen was a traditionally-styled, bright, open and efficient space with a "furniture feel" for key elements.
We replaced the wall ovens with a new dual oven Wolf range and set the new upper storage cabinets back to improve visibility into the formal dining room.
We made the new peninsula a single height, improving visibility into the adjoining room.
We removed the 8 foot soffet, cabinets and key drop and replaced them with a Sub Zero refrigerator and a second, dedicated Sub Zero freezer. The placement of this custom furniture piece improved the flow between the kitchen and greatroom and was finished in a darker wood for visual emphasis.
We made the island longer to increase usable countertop area and narrowed it slightly to allow for better traffic flow through the space. The resulting shape is dramatic and emphasized with furniture design elements and a dark finish to match the refrigerator/freezer piece.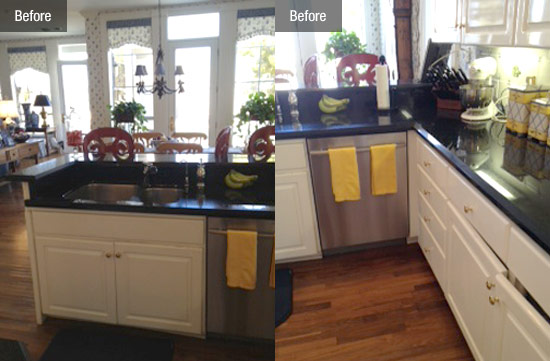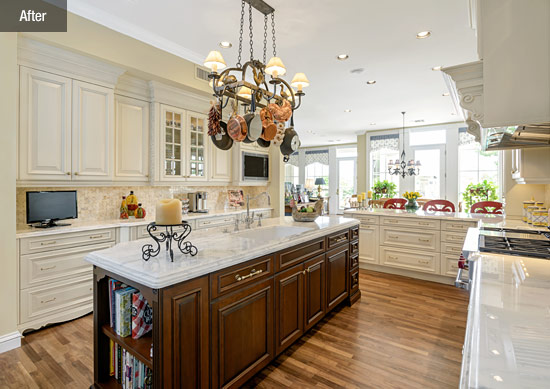 The wood hood was the visual focal point that our client identified as her favorite feature and she absolutely loves the brighter, more open feel of her new kitchen. We also updated the bar to match the furniture pieces from the kitchen.