Luz's Before & After: A Roof & Floor Program Update from Colombia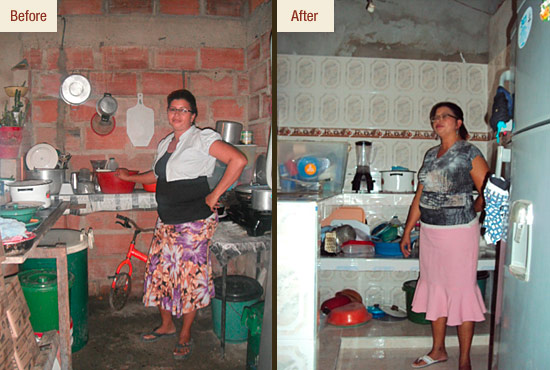 Here's the latest Opportunity International Roof & Floor Program update from Astrid in Cartagena, Colombia. Luz runs a small business and is active in her community:
Luz Ena is married with two children. This family has fought for a better quality of life. Luz Ena has worked with her trust group Oasis for four loan cycles to strengthen her business. She sells items from catalogues, specifically makeup creams, deodorant, perfumes, and she also works as a community mother, where she instructs young mother's prenatal care.

Luz Ena has managed her loan well with Opportunity International, always paying back her loans on time. She is thankful that she can apply for Home Improvement loan, which Opportunity offers as "a roof and floor" for the most faithful trust group clients. Her loan was approved for $1,500,000 pesos over 18 months. Luz Ena has used this money to improve her kitchen which she now enjoys with her family and uses it especially as a community mother.

Astrid
Watch the first documentary from our trip to Cartagena during the Summer of 2008.
Watch the second documentary from our follow-up trip to Cartagena during the Winter of 2010.
Visit the Affinity Kitchens YouTube Channel
Opportunity International is a non-profit organization dedicated to helping the working poor. They provide small loans that allow poor entrepreneurs to start or expand a business, develop a steady income, provide for their families and create jobs for their neighbors. Opportunity International also offers savings, microinsurance, business training and many more services to 1.1 million working poor in 28 developing nations.