Truly Refined Design: A Contemporary Before & After
Contemporary styling for a clean look.
Ample countertop space with stools to create a gathering place for friends.
Raised ceilings and a new, fully retractable sliding glass wall to open up the space.
New layout to maximize efficiency.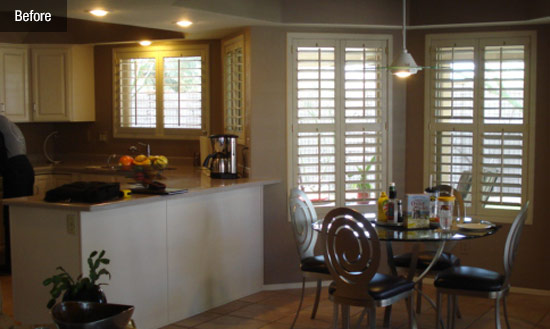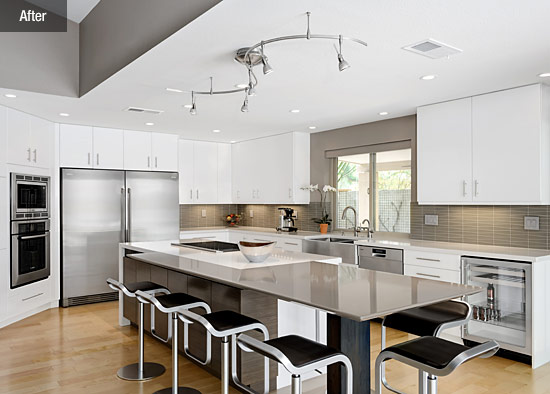 There were a handful of challenges during this remodel which took full advantage of our team's creativity and innovative spirit: Our clients wanted a high gloss, lacquered look without the high gloss, lacquered price tag. We recommended a durable thermofoil door with a look (and price point) that they loved. We completed the look with modern hardware and included all the latest functional features including soft close drawers, pull outs and integrated inserts. The original plan was to raise the ceiling all the way to the rafters but there was a supporting beam in the way. We went as high as possible and brought the cabinetry all the way up to the ceiling. Thanks to the fine work of our craftsmen and installers, the extremely tight cabinet-to-ceiling transition is perfect and adds to the clean look.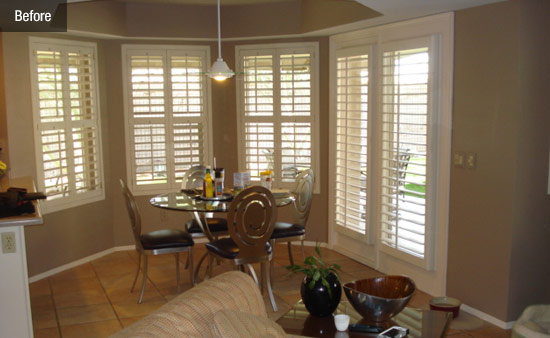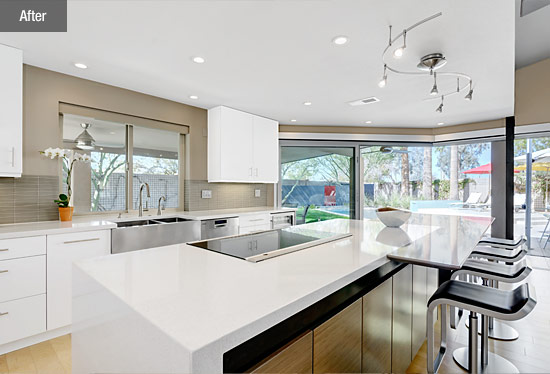 Space was at a premium, but our clients wanted to incorporate seating for up to six people so we absorbed some of the patio into the kitchen. Our designer added a table to the end of the island, using contrasting colors (gray vs. white) and countertop edges (bevel vs. square) to create a visual separation between the food prep and seating areas. The added kitchen space was great, but it created an obtuse angle when the new retractable glass wall was closed. Standard locks wouldn't accommodate the extreme angle so our contractor designed a custom latching mechanism. Our clients wanted a contemporary look but didn't want it to look cold and lifeless. We selected a horizontal glass tile with an angular pattern which our client described as "almost like lace" and which contrasts nicely with the straight lines throughout the rest of the kitchen.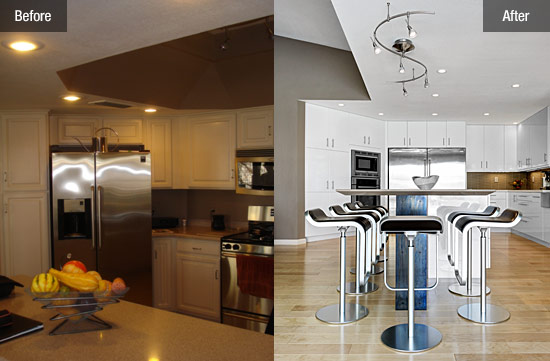 The dual refrigerators are freestanding units, but our clients wanted a built-in look. Our designer created the illusion of built-ins by having the surrounding cabinets installed 6 inches out from the wall. Often, remodeling challenges and setbacks give us the chance to rethink and improve on our initial ideas, and this kitchen is a great example of truly refined design. We asked one of the homeowners to name her favorite feature and she said, "It's hard to name just one. Other than the overall design I really like the 36″ stainless farm sink. I love my beverage cooler, oven, induction range. I really love the pop up hood on the range!" "We were referred to Affinity by a neighbor friend so we knew what to expect in terms of quality and we made the right choice. When challenges arose we had such trust in our designer and contractor. There is not a thing I would change."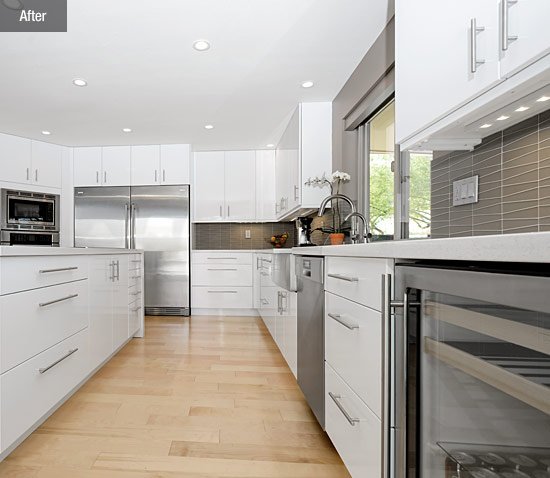 When our clients bought their home they inherited old, outdated cabinetry and a crowded space. To buy some time they repainted the cabinets, replaced the countertops and lived with their kitchen for another decade. When the old cabinets started to fall apart our clients realized that the time was right to create the kitchen of their dreams. Their wish list included: