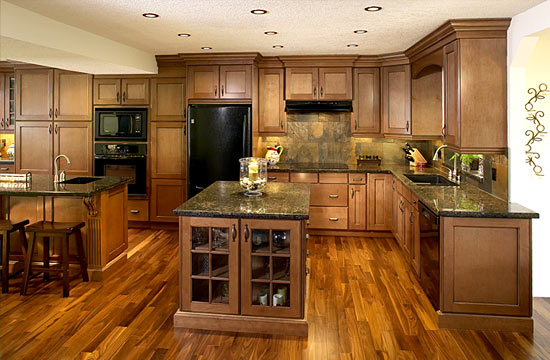 Doubling the size of the kitchen, a wall was removed and plumbing rerouted, providing refreshing scale with characteristic aplomb. A too small white kitchen was traded for spacious flows with warm maple, toffee stained millwork accented with black iron handles and clear, tempered glass inserts. Dual islands extend flows, hosting breakfast bar convenience that is accentuated with fluted columns and corbel supports. Black Siligranite sinks mirror appliances and contrast with Brown Pearl Granite countertops that border a vivid slate backsplash. Anchoring the setting, walnut hardwoods complete a rich, earthen décor.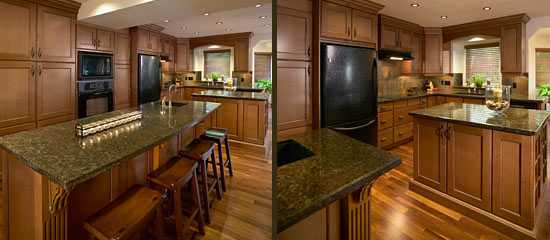 The client wanted a more generous and functional living space with abundant storage capacities. A walk-in pantry with custom, built-in accessories blends with tallboy cabinetry featuring decorative crown mouldings for optimized convenience and visual appeal. Affinity's qualified kitchen designers all share years of experience. Our knowledge of construction and the go-to people we have to accomplish what is required provide seamless installations that achieve our client's visions.

Gifted with exquisite designs, Affinity Kitchens strives beyond mere functionality with every kitchen renovation. Reinstating presence with décors that leap from the page, well-crafted appeal achieves the unachievable.