High Gloss Contemporary Kitchen to Match a Modern Family's Style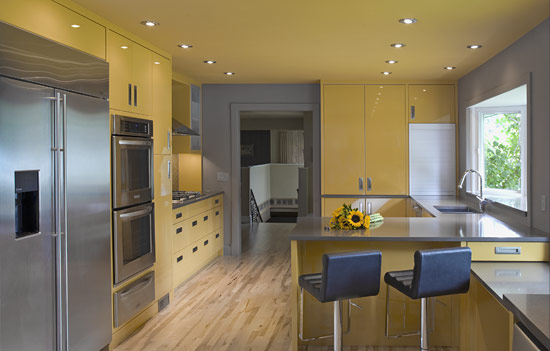 This showstopper in Calgary's Upper Scarboro features Legacy Kitchens, our Calgary location, whose diversity and capacity for interpretations defy convention. "We wanted a design in keeping with the style of our mid-century, modern, ranch-style bungalow," admits the homeowner, adding, "We have three young children and needed a centre that could accommodate our lifestyle. The grown-ups wanted something definitely different and unique and once we worked out an idea, Legacy made it into a workable design." Derived from a concept by Douglas Cridland, a wash of yellow, high gloss-finishes and stainless steel was refined Legacy's Susan Pilon. "It's completely modern with all the conveniences. The high gloss Sun Ray polyurethane finish really complemented the clean lined stainless steel appliances with corner appliance garage," says Pilon who integrated a desk station and booth-style eating area that features in-bench storage. An open hallway was closed off to create the new dining area that displays metallic taupe, vinyl bench seating that surrounds an antique granite table.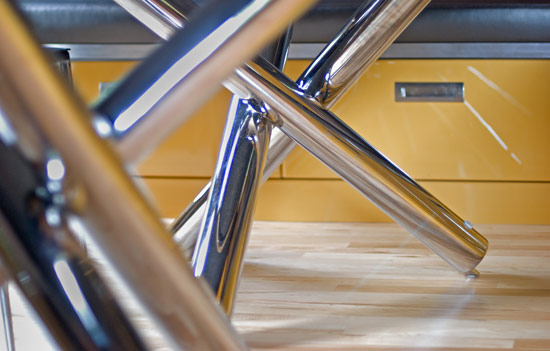 The stainless steel cabinet pulls are inset into the finish, mimicking a file drawer system alongside upper touch latch cabinets. Full extension, soft close Blum drawers further complement this kitchen's smooth appeal. Caesarstone countertops contribute additional high-gloss surfaces in Lapos Blue amidst a backsplash of miniature stainless steel subway tile, while the ceiling perfectly replicates cabinet hues with linear pot lights balancing clean-lined flows. "We were all very pleased – the overall look was a lot more creative than the norm. It's a unique kitchen that reflects our family and our style perfectly," concludes this satisfied client.