Mrs. Rosa's Before & After: A Roof & Floor Program Update from Colombia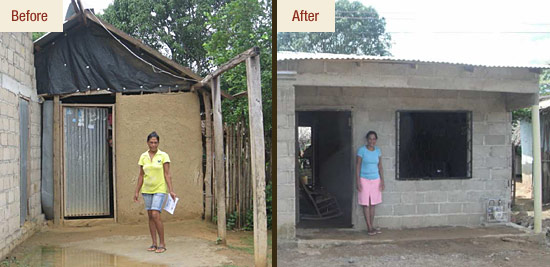 We're closely involved with the non-profit microfinance organization Opportunity International and their work in Cartagena, Colombia. Recently the Roof & Floor program manager, Astrid, sent us an update about Mrs. Rosa, a participant in the new program. Astrid is working hard to learn English so we were encouraged by Mrs. Rosa's story and appreciative of Astrid's efforts to share the story without the aid of a translator.
Let me share with you the story of Mrs. Rosa Elizabeth Acevedo, is that such stories can to help you understand the work that you are playing to raise funds and worth to help the families of our clients here in Colombia, so thank you for what you do for this program and you dispocision to contribute to this noble cause!.

Mrs. Rosa is married and has 3 children and…currently belongs to the area PEACE trust group that belongs to the zone…Mrs. Rosa is currently in the eighth cycle and payment behavior is excellent trader of clothing, cosmetics through magazines.

When we did the promotion of the program in this village she was encouraged to make a loan to improve his home, had a house in Clay, had begun to change the cement block walls of a room and the challenge was to finish around the house with walls concrete block, her husband had some savings but were afraid to start construction because I thought that was not enough, but Rosa encouraged him and told him she was willing to make the loan and that God would begin and step by step was so they decided to request $ 400 US earmarked for the zinc roof, came out a loan and they continued with what they had started, I was after two weeks and were in the process of construction.

They currently have the house built in concrete block walls and a new roof, was a blessing after re-visit and oversee your project and find a new home with defined spaces between those of the kitchen, and so it see the joy of our client Rosa Isabel satisfied and happy with his family are looking forward to further progress in the total construction of your home.

So I attached the format handling improvements with photos, this emotion in me that I need to share it with work for this program.

Blessings and greetings to all!!

Astrid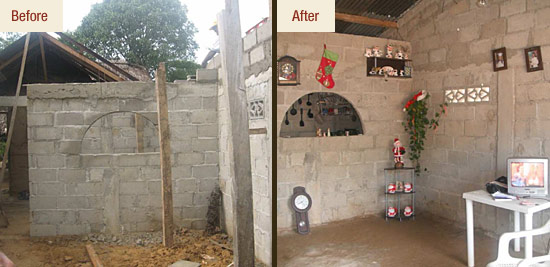 Watch the first documentary from our trip to Cartagena during the Summer of 2008.
Watch the second documentary from our follow-up trip to Cartagena during the Winter of 2010.
Visit the Affinity Kitchens YouTube Channel
Opportunity International is a non-profit organization dedicated to helping the working poor. They provide small loans that allow poor entrepreneurs to start or expand a business, develop a steady income, provide for their families and create jobs for their neighbors. Opportunity International also offers savings, microinsurance, business training and many more services to 1.1 million working poor in 28 developing nations.