A Transformed Life, Part 2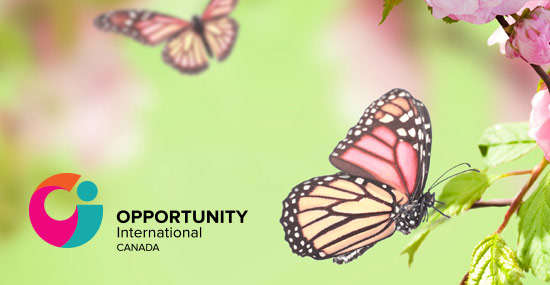 Doris is Vice President of Opportunity International (OI) Canada, a micro-finance organization dedicated to transforming the lives of the poor. Affinity Kitchens has supported this tremendous organization since 2007. You can learn more about Doris in
Part 1 of her transformation journey
. Here is Part 2, in her own words.
…And together we become witnesses to transformed lives Real life transformation in the lives of women like Beata. Beata is a genocide survivor from Rwanda. Her husband and three of her children were killed in the 1994 genocide, and Beata and three other children were left for dead. But they didn't die. They survived. For a long time, Beata was confined to bed with her injuries. For seven years she lived in a fog. She calls it the years of the living dead. She was depressed and her life seemed meaningless. Everything except for the fact that she still had children that needed her to live. In 2001 a friend introduced her to Opportunity International Rwanda. Beata makes the comment, "It wasn't just the fact that Opportunity gave me a loan because they saw my talent as a craftswoman. Opportunity became my family. They helped me start over. They gave me hope. They didn't deny me a loan even though I was confined to my bed. It's a miracle." Inspired by Beata's Story?
Click here to find out how you can help. Her first loan was $35 just enough for her to build a business making colorful beads out of paper and other crafts. Since receiving that first loan in 2001, Beata has remained a faithful client and has grown her business significantly. In 2012 she received a loan for $4000! Beata is committed to helping others in her community and is finding the path to hope and prosperity. When I met Beata in 2012, two of her children had finished college and the third had one more year to go. While she still suffers with post-traumatic stress syndrome, Beata is full of hope. Her response to the horrors of the Rwandan genocide makes her one of my Opportunity heroes. Beata's life is a shining example of so many of the women and men that I have met over the years in Latin America and Africa. And together they all make my life make sense. When I was a young child, I prayed what I thought was a prayer… "I wish I may, I wish I might, Have the wish I wish tonight." The wish: a secure happy family; enough food to eat; a home we can call our own; a reason to keep on living. I understand what it means to have everything taken away, what it means to be displaced. I haven't had to live through a genocide, but our family did have a tragic turn of events…
We'll continue Doris' story in Part 3.
Watch the first documentary from our trip to Cartagena.
Watch the second documentary from our follow-up trip to Cartagena.
Visit the Affinity Kitchens YouTube Channel
Opportunity International is a non-profit organization dedicated to helping the working poor. They provide small loans that allow poor entrepreneurs to start or expand a business, develop a steady income, provide for their families and create jobs for their neighbors. Opportunity International also offers savings, microinsurance, business training and many more services to 1.1 million working poor in 28 developing nations.