A Transformed Life, Part 1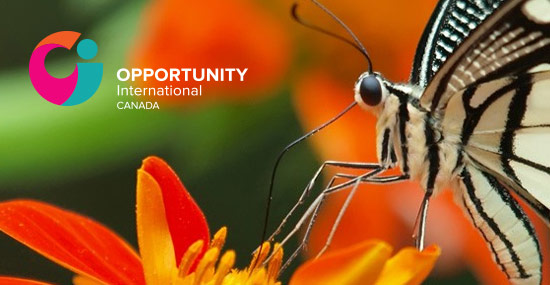 Doris is Vice President of Opportunity International (OI) Canada, a micro-finance organization dedicated to transforming the lives of the poor. Affinity Kitchens has supported this tremendous organization since 2007. We have known Doris since 2006 when we travelled with her to Peru as part of a due diligence trip of her organization, Opportunity International Canada, and where we wholeheartedly committed our company to their micro-finance work with the poor. As Vice President of OI, she is Affinity's liaison to the work of Opportunity and has accompanied us a number of times to Colombia where she not only managed our desire as a company to directly fund various pilot projects with Opportunity into fruition, but was essential to their growth and development through her remarkable working relationships with implementing individuals in Colombia and Canada. Her relationships extend much beyond that what one would normally expect from a person working in fund development with a relatively large organization, as she is well known in our Calgary offices with not only executive and ownership but also with regular staff members as she makes it a priority to visit and foster relationships. Fostering relationships and making friends is how Doris works, within her organization and with donors across Canada. Here is Part 1 of Doris' transformation journey, in her own words.
"How does one live the best version of themselves? For me it has been helping others find their way out of difficult places and spaces. In May 2005 the chance to do this for countless families around the world became my reality. I joined the team of Opportunity International. Inspired by Doris' Story?
Click here to find out how you can help.On an Opportunity International Insight Trip to Colombia in 2005 my husband made a comment that continues to inspire me about this work we do. He said, 'This is what Jesus would do. He would see the woman baking bread over an open fire and would say, Let's buy her an oven so she can bake more bread. And then he would come alongside her and bake bread with her.' This is transformation. Helping people live up to and live out their God-given potential. Everything that our family has been through from the time we were children prepared us to be agents for change for others. This is transformation. In the name of Jesus, this is that cold cup of water. This is what Opportunity International is all about. Over the last nine years our family has walked alongside and prayed for many families in a number of countries. We have witnessed firsthand what happens when 'dreams' become reality. Opportunity International is a banker to the poor. The work we do is called microfinance but in reality we are the hands and feet of Jesus. We come alongside some of the most creative, tenacious survivors on the planet. People who are figuring out how to provide for their families in some of the most precarious places. Their entrepreneurial ability and God given skill and talent is their collateral. This is what Opportunity International invests that first small loan in. We believe in them. And then we mentor and equip them to become the best version of themselves. And together we become witnesses to transformed lives."
Watch the first documentary from our trip to Cartagena.
Watch the second documentary from our follow-up trip to Cartagena.
Visit the Affinity Kitchens YouTube Channel
Opportunity International is a non-profit organization dedicated to helping the working poor. They provide small loans that allow poor entrepreneurs to start or expand a business, develop a steady income, provide for their families and create jobs for their neighbors. Opportunity International also offers savings, microinsurance, business training and many more services to 1.1 million working poor in 28 developing nations.