Small Kitchen Remodeling Ideas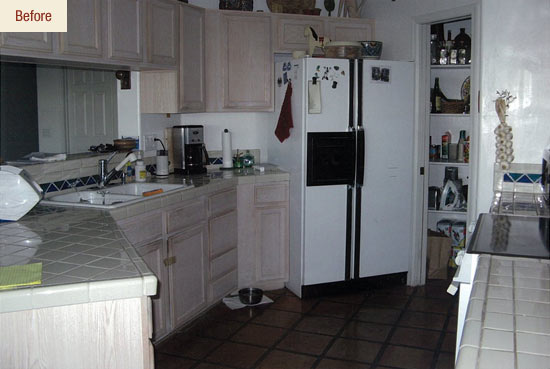 We removed an existing pony wall and awkward closet pantry to transform the tiny space into a much roomier cook's kitchen with an easy-to access stove, ample counter space in all the right places, and a beautiful furniture feel that complements the adjacent family room. The refrigerator was moved from its original hard-to-access location to a convenient built-in space near the entry of the kitchen.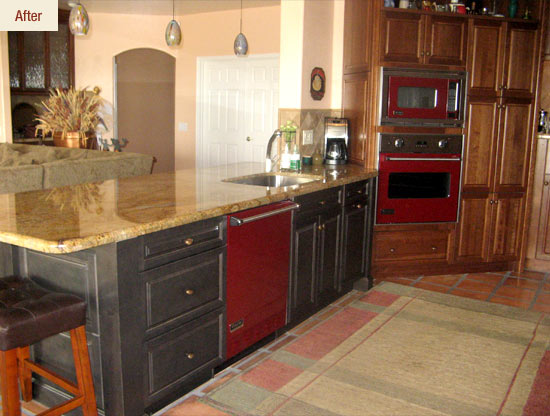 Our client loved the Burgundy color of the Viking appliances, so this color was used throughout the space to give it a consistent, thematic feel. Because the small kitchen space and pre-existing tile footprint made a free-standing island impractical, we created an attached island and finished it with a black rub to make it look like a piece of furniture. Part of the island's furniture detail behind the sink was raised to hide dirty dishes and conceal the vent and drain pipe that were located in the old the pony wall. The area to the right of the sink was turned into a social gathering space with the seating for three; something our client had always wanted. Paneling under the knee-space creates the illusion of drawers, further reinforcing the furniture look. This space also hides a convenient double-trash pull out.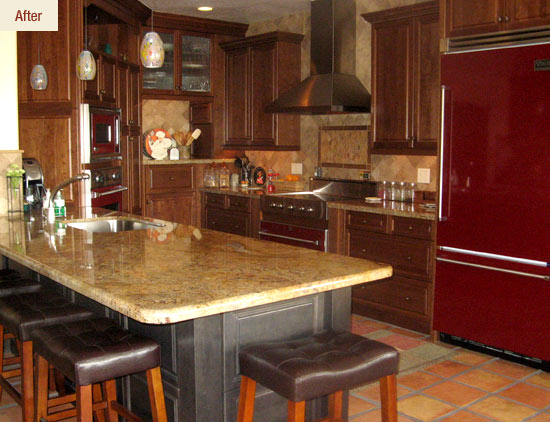 Dishes and glasses are easily stored in the 36″ drawer base and upper cabinet next to the refrigerator, and there is a large 54″ counter space just left of the sink for food preparation. In the space occupied by the old refrigerator we paired a pantry (loaded with roll-out shelves) with an oven/microwave combo to make them look like a single unit. This was accomplished by adding a decorative open shelf display over the entire unit. Tray dividers for vertical storage are located over the ovens to free up storage space in the lower cabinets. A raised counter to the right of the oven/microwave serves as a staging area for food. Underneath is a space to discreetly store small appliances like the coffee pot and toaster while the glass doors above are lighted, offering a great place to display decorative items. Beautiful granite and a tumbled stone backsplash were coordinated to complement the existing Saltillo flooring. The columns to the left and right of the 36″ gas rangetop, the burgundy warming drawer below, the decorative treatment of the toe area with furniture valance and the professionally styled hood complete this cook's kitchen.

Our client had always dreamed of cooking in a beautiful, spacious kitchen. Her original, tiny kitchen had outdated whitewashed cabinets, tile countertops that were difficult to clean, an electric range, a broken dishwasher and an original Saltillo tile footprint that our designers would have to work around.