Function & Innovation: A Contemporary Before & After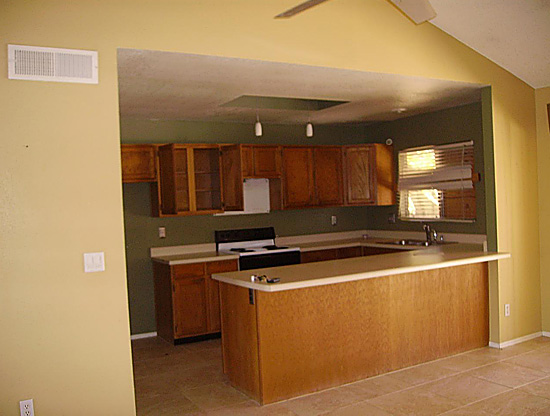 Our clients purchased a bank-owned home that was best described as "trashed." The kitchen was in disrepair and decades out-of-date, so the list of challenges was equal parts functional and aesthetic.
Functional challenges:
Inefficient flow around peninsula with only one entrance.
Small window contributed to poor lighting.
Pantry consumed by a washer and dryer.
Small 13″ upper cabinets with wasted space above.
Aesthetic challenges:
Low quality particle board cabinets.
Traditional door style out-of-sync with preference for contemporary design.
Outdated linoleum under outdated tile.
Popcorn ceiling.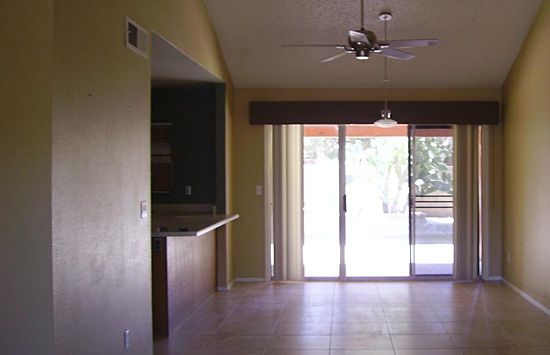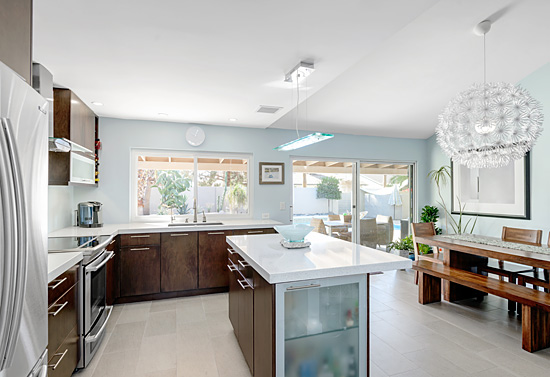 Our designer, Tim, helped to balance our client's goals for improved function with her husband's desire for contemporary innovation.
To start, the pantry was converted to a desk workspace; the washer and dryer were relocated to the garage and the soffit was bumped up to make space for upper storage cabinets. The peninsula was converted to an island to improve flow, and the kitchen window was stretched to maximize natural lighting. Tim used large rolling drawers and pullouts on the lower cabinets to provide easy access to items set deep in back and maximize usable space.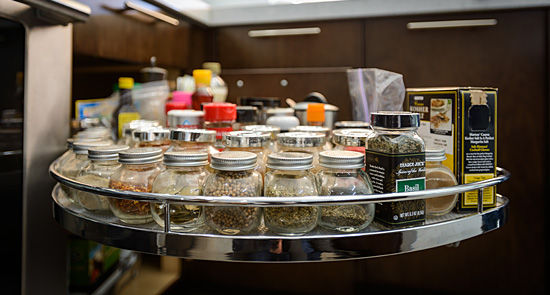 The clean look of the cabinetry, stainless hardware, modern lighting fixtures and Blanco countertops contribute to a distinctly contemporary look. With updated appliances and space for a computer workstation, Tim was able to satisfy our client's desire for innovation.
Some unique features of the kitchen include:
Horizontal upper cabinets – Tim customized our standard cabinetry with an aftermarket lift-up door system. Aluminum-framed glass door on the end of the island to match the horizontal glass upper cabinet. 9 foot sliding door in the adjacent dining area.
Our clients were happy with the balance that Tim found between function and aesthetics. His design work influenced the rest of their home remodel: "We love the clean lines. Tim's design set the stage for how we wanted the rest of our home to look."